Mediterraneo: Carnevale 2022! With The Badwills, TuFlamenco and Los Cumbiatones
NEHH & Mediterraneo present
Sat 19 Feb 2022 @ 8:30 pm

-

Sun 20 Feb 2022 @ 12:00 am

£10 – £11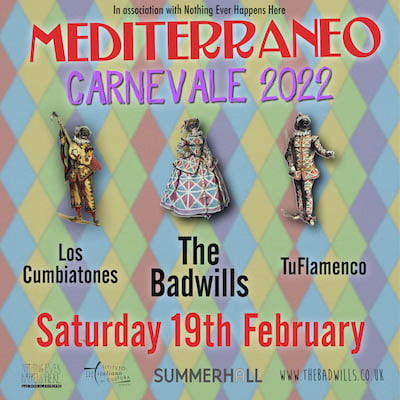 Standing only. Bring your own masquerade mask for a discount (full price ticket includes free mask)
Contact venue with additional access requirements
Please note: you are not legally required to present proof of vaccine certification or a negative lateral flow test for entry to this event. We do request you carry out an LFT as a courtesy to fellow guests and staff. Please do not attend if you have COVID-19 symptoms.
Mediterraneo and Nothing Ever Happens Here Present Carnevale 2022, a wild masquerade featuring Italian Pizzica, Spanish Flamenco and Colombian Cumbia, with some of Edinburgh's best foot-stomping live bands – The Badwills, TuFlamenco, and Los Cumbiatones.
Oh, it's good to be back at Summerhall! Three years after the last amazing sell out edition, time to get the party started again with Carnevale: that time of the year when the world is upside down, Harlequin the servant is master for the day, the Fool is wise, the King is poor and music rules them all.
It's the time to go crazy, to wear your best costume, your good dancing shoes, and your best mask – of the fun kind: a mask full of colour, mystery and mischief. Come and join our three bands for what promises to be a blast.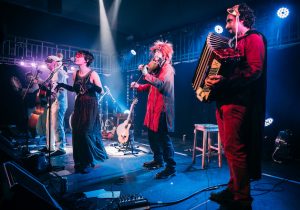 TUFLAMENCO
Opening the night, Mediterraneo pals TuFlamenco bring a warm musical fusion between the Latin world and the essence of Flamenco. Guitar and singing, dance and percussion combine with sensitiveness, humour, complicity and a pinch of cheekiness: a voracious energy that will fill the room with a genuinely magical sound. Bienvenidos a la Fiesta!
LOS CUMBIATONES
There is a new Cumbia Band in town – and they mean business. They want to make it impossible for you to stop dancing, so just try and keep up. From a continent of dreamers and dancers, Los Cumbiatones bring to Edinburgh their mix of traditional Colombian Cumbia and psychedelic grooves. Why resist?
THE BADWILLS
And closing the night, Edinburgh's one and only Pizzica, Tarantella & Tammurriata band. The Badwills have entranced Scotland with their powerful mix of Southern Italian music and rhythms and Scotch-Irish vibes for more than ten years. From Orkney to the Borders, from the fields to the theatres and the streets, noone has been able to resist the bite of the tarantula. Come and sweat your madness away, be ready to dance, to sing, to dream.
"Not to be missed"★★★★★ Edinburgh Festival Magazines (on The Badwills)
"If you've never seen flamenco danced to perfection, please go along – you are in for a treat"★★★★★ British Theatre Guide (on TuFlamenco)
Test 4
Event Categories: