(cancelled) My Favourite War
Ilze Burkovska Jacobsen
Sat 05 Feb 2022 @ 7:30 pm

-

8:55 pm

£8 – £10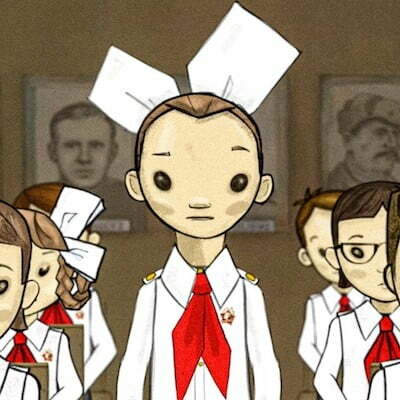 Unreserved seating. Content: Themes of war, scenes of violence. The feature will be screened in Latvian/Russian with closed captions.
Access: Closed caption screening. Hearing loop available. Access via 14-24 steps or staff-operated lift.
Contact venue with additional access requirements.
This event has been cancelled. View the organiser's full update at this link.
This programme will now be screen online on Saturday 5th and Sunday 6th February – to purchase tickets for the online screenings, visit this link.
My Favorite War is an animated documentary telling the personal story of its director, Ilze, about her growing up in the Cold-War USSR. It is an exciting coming-of-age story about finding one's own identity, truth and loyalty.First, we meet Ilze as a little girl playing war at her granddad ́s farm, then she is faced with the horror of war threats at school. Ilze lives in a clash between the Soviet reality and pro-paganda denying what people actually are experiencing. Moreover, Ilze also finds out how opposite in their beliefs are people whom she loves the most.The film is about choices a girl has to make in a very young age, then getting wiser and finding courage to speak out.
Ilze Burkovska-Jacobsen is a Latvian born film director living and working in both Norway and Latvia. She has done eight documentaries and more than 20 hours of TV animation-/ documentary series. The last ten years Ilze, and her production company Bivrost Film, have worked on "My Favorite War" as well as on several animated documentary series for children with topics like abuse and violence. She and her team won an International Emmy Award for "My Body Be-longs to Me" in 2018.
Winner of Annecy Contrechamp Competition, French Critics Prize, Annecy- Special Distinction Prize, Bucheon IAFF (Korea)- Grand Prix / Feature Films, New Chitose Animation Festival – Best Animation Director, Best Animated Film, Latvian National Film Prize- Animator Of The Year, Palm Springs International Animation Festival & EXPO.
Manipulate recommends a 15 certificate for this film.
The feature will be screened in Latvian/Russian with closed captions.
"...a nine-year labor of love from a Norwegian-Latvian team, it combines distinctive cutout animation with family photos and archival footage to forge a look at an authoritarian society through a young girl's eyes"Variety
Event Category: