Pashyanti on Guitar
Simon Thacker
Fri 06 Aug 2021

-

Sun 29 Aug 2021

£8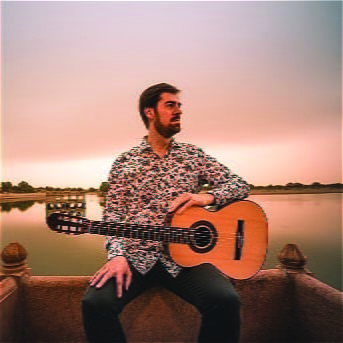 Pashyanti [Sanskrit: the junction point between the ordinary waking state and pure consciousness] 
Scottish guitar virtuoso and "musical alchemist" (World Music Report) Simon Thacker returns to the Made In Scotland showcase with one of the most powerful performance films of recent years, featuring special guest dancer Aishwarya Raut (Rambert). Simon draws on a deep lifelong immersion in diverse cultures and an array of pioneering experiences to offer a revelatory new vision for the art of solo guitar. Aishwarya stunningly embodies the music, with daring physicality and infinite nuance in a 34 minute film of enchanting power. 
'shimmering, fluttering delicacy' (List)
'shifting rhythmic complexity' (Songlines) 
'primal, multi-layered sounds' (Caleidoscope)
Meet the Artists:

Join the team behind the show for a free online Meet the Artist event on Tuesday 10th August @ 8pm.

Hosted by Summerhall's programming team via Zoom, this post-show discussion offers you the chance to find out more about the production, hear from the artists about the ideas behind the show, and ask your own questions.

Free event. RSVP required in advance – click here to book your space.
credit: Nitesh Anand
Event Categories: