369 Remembered – The Men
The 369 Gallery artists
Sat 09 Feb 2019
- Sun 17 Mar 2019
11:00-18:00 (Wednesday-Sunday)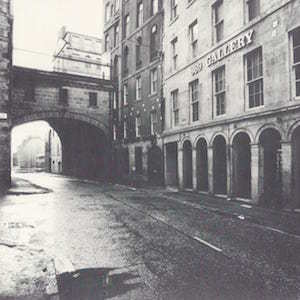 _ Venue: Sciennes Gallery
Preview: Friday 8th February 2019.
Free tickets available here
It is 40 years since Andrew Brown founded the 369 Gallery at 369 High street, Edinburgh in 1978 before moving to the Cowgate in 1984 and after the gallery was burnt down in the disastrous "great fire of Edinburgh" in 2002 it briefly resurrected as Phoenix 369 in Dundas Street. Andrew continues its ethos of promoting young and old Scottish artists at Summerhall and Traquair house in the Borders.
Following the success of 369 REMEMBERED THE WOMEN last year at Summerhall the 40th-anniversary celebration continues this February with an exhibition of work by male artists associated with the gallery over the last four decades. The Glasgow Boys, Peter Howson, Stephen Campbell and Adrian Wiszniewski exhibited at the High street gallery in the early 80s, when they were students at the Glasgow School of Art as did the Glasgow Chinese artist, Hock Aun Teh, who first showed at the 369, before going on to make his career in Asia and China.
Rob McCarthy and Andrew Williams studied at Edinburgh College of Art, and like Callum Innes and Paul Furneaux had studios in the Cowgate Gallery. David Cook, who lives and paints near Montrose, also showed when he was a student at Dundee College of Art, and Graeme Swanson had just graduated from Aberdeen. Several artists, such as Geoffrey MacEwan, now living in Majorca, and Jonathan Gibbs, now head of illustration at Edinburgh College of Art also regularly exhibited as did in the early years, Graham Durward and Brian Gibb who now live and work in New York.
This exhibition includes new and old examples of work by all these artists, as well as paintings by some of the American, European and Russian artists who exhibited at the gallery through international cultural exchanges. It is not an exaggeration to say that an entire generation of Scottish artists, male and female, now internationally known, began their professional careers at the 369 Gallery and these two exhibitions celebrate the 369 Gallery's unique contribution to contemporary Scottish art.