Adam, Eve, others and a UFO
Adam, Eve, others and a UFO
Haroon Mirza
Wed 03 Aug 2016
- Fri 30 Sep 2016
11:00 - 18:00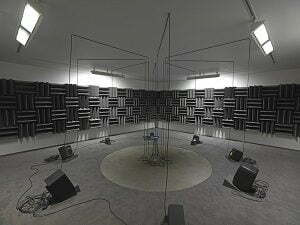 © Haroon Mirza; Courtesy Lisson Gallery. Photography: Ken Adlard
Haroon Mirza has won international acclaim for installations that test the interplay and friction between sound and light waves and electric current. He devises kinetic sculptures, performances and immersive installations. An advocate of interference (in the sense of electro-acoustic or radio disruption), he creates situations that purposefully cross wires. He describes his role as a composer, manipulating electricity, a live, invisible and volatile phenomenon, to make it dance to a different tune and calling on instruments as varied as household electronics, vinyl and turntables, LEDs, furniture, video footage and existing artworks to behave differently. Processes are left exposed and sounds occupy space in an unruly way, testing codes of conduct and charging the atmosphere. Mirza asks us to reconsider the perceptual distinctions between noise, sound and music, and draws into question the categorisation of cultural forms.
This installation Adam, Eve, others and a UFO was first shown in an exhibition by the artist at Lisson Gallery in 2013. A UFO-circuit is equipped with eight LEDs and placed in the centre of the room. From there, cables run to eight, circularly arranged, yet non-identical speakers (one branded ADAM and another EVE). The electric current that causes the short flashing, brightening or dimming of the LEDs creates different sounds, audible through speakers, which are controlled by a computer programmed by Mirza to form a minimalist electronic piece of music. The dark grey foam on the walls, which generates a recording studio atmosphere, and the carpet are used to reduce reverberations and keep the sound in the centre of the room.
Haroon Mirza was born in London in 1977, where he lives and works. His work was included in the 7th Shenzhen Sculpture Biennale, China (2012) and the 54th Venice Biennale, Italy (2011), where he was awarded the Silver Lion. He was awarded the Northern Art Prize in 2011, the DAIWA Foundation Art Prize in 2012, the Zurich Art Prize in 2013, the Nam June Paik Art Center Prize in 2014 and the Calder Art Prize in 2015.