Auld Reekie's Roses. Paintings of Scots Poems
Auld Reekie's Roses. Paintings of Scots Poems
Sheila Mullen
Sun 01 Dec 2019
- Fri 31 Jan 2020
Wednesday-Sunday - opening times vary please check with the gallery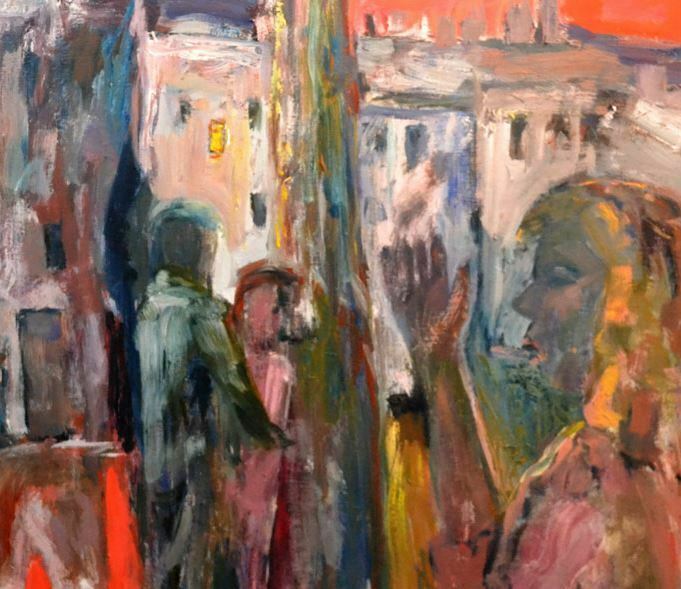 Auld Reekie's Roses, (detail), Sheila Mullen
Curated by Andrew Brown
The exhibition celebrates the centenary of the birth of poet Hamish Henderson (1919 – 2002).
Sheila Mullen is a Scottish painter who lives and works in Scotland.
She was born on 24 January 1942 in Glasgow, Scotland. She grew up near Auchtermuchty, Fife, Scotland. She attended the Glasgow School of Art and started painting professionally in 1978. Her works are in the permanent collections of the Leeds Art Gallery and the Duke of Buccleuch among others. In 2010 she was the subject of a monograph by Ann Matheson: The Bairns O Adam: The Paintings of Sheila Mullen. In 2006 she collaborated with the group of Scottish writers called the Crichton Writers in a project called The Art of Ballads and Bards: An Anthology of Work by the Crichton Writers and Art by Sheila Mullen resulting in a published volume documenting the series of workshops and sessions between the writers and Mullen
The Freedom Come-All-Ye
Roch the wind in the clear day's dawin
Blaws the cloods heelster-gowdie ow'r the bay,
But there's mair nor a roch wind blawin
Through the great glen o' the warld the day.
It's a thocht that will gar oor rottans
– A' they rogues that gang gallus, fresh and gay –
Tak the road, and seek ither loanins
For their ill ploys, tae sport and play
Nae mair will the bonnie callants
Mairch tae war when oor braggarts crousely craw,
Nor wee weans frae pit-heid and clachan
Mourn the ships sailin' doon the Broomielaw.
Broken faimlies in lands we've herriet,
Will curse Scotland the Brave nae mair, nae mair;
Black and white, ane til ither mairriet,
Mak the vile barracks o' their maisters bare.
So come all ye at hame wi' Freedom,
Never heed whit the hoodies croak for doom.
In your hoose a' the bairns o' Adam
Can find breid, barley-bree and painted room.
When MacLean meets wi's freens in Springburn
A' the roses and geans will turn tae bloom,
And a black boy frae yont Nyanga
Dings the fell gallows o' the burghers doon.
---
Hamish Henderson
from Collected Poems and Songs, edited by Raymond Ross (Curly Snake Publishing, 2000)