BLACK BOX – Kinship
Louise Mackenzie
Sat 09 Apr 2022
- Thu 09 Jun 2022
Weds - Sun, 12pm - 6pm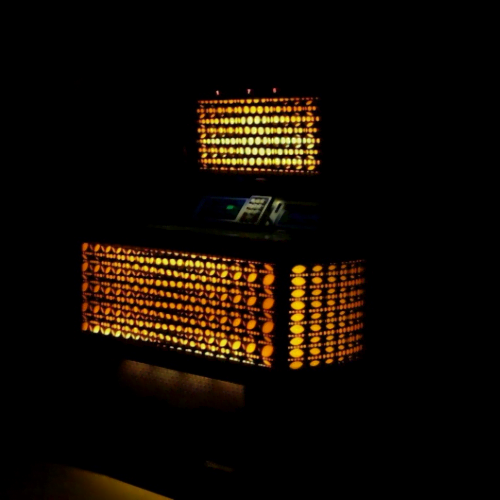 Opening the door on the inner workings of scientific research, Black Box is a curatorial cinema project, founded by artist, Louise Mackenzie and scientist, Kasia Pirog in 2019. Curating film inspired by and expanding upon scientific themes, BLACK BOX showcases works by artists and researchers involved in a creative and critical engagement with science.
For Edinburgh Science Festival, BLACK BOX presents a 90-minute programme of short films on the theme of KINSHIP. Focusing on the different forms of relation that begin with the body, from viral and cellular interactions to the familial relationships affected by genetic disease, these films allow us to contemplate the revolutions of life through our relationships to both human and non-human beings. Including award-winning films from artists, Karen Kramer and Jacqueline Donachie, KINSHIP asks what connects us? What is the extent of our relationships with other bodies (human and otherwise)? How do we relate to the cells and viruses that comprise our body? How do scientists relate to patients and how do patients relate to others? Who or what connects us, who is host and who is guest?
BLACK BOX is supported by the Cultural Negotiation of Science, Northumbria University and the Biosciences Institute, Newcastle University.
About the Curator
Louise Mackenzie is a British artist, curator and writer. Her research explores human relationships with the material and nonhuman world through process-based and participatory art practice. She is founder and curator of interdisciplinary cinema, Black Box and co-founder of Alive Together, an interdisciplinary community for research in human/animal relationships. Her artwork encompasses film, sound and sculpture and her works, The Stars Beneath Our Feet, Zone of Inhibition and Lively Material have been exhibited in the UK, USA, Canada, China and Australia. Louise received a first-class honours in Fine Art from Newcastle University in the UK and a PhD in Fine Art from BALTIC and Northumbria University's Institute of Contemporary Art. Louise lectures and writes and has published with Leonardo Journal (MIT Press), Journal of Technoetic Arts (Intellect), PUBLIC Journal, and Artnodes, Journal on Art, Science and Technology.