CO2_Live
Daniel Budinov, Patrick Hickey, James Howie, Jim Jack, Ryan Lewis, Adam Linson and Iain Robinson
Sat 01 Apr 2017
- Fri 12 May 2017
11:00-18:00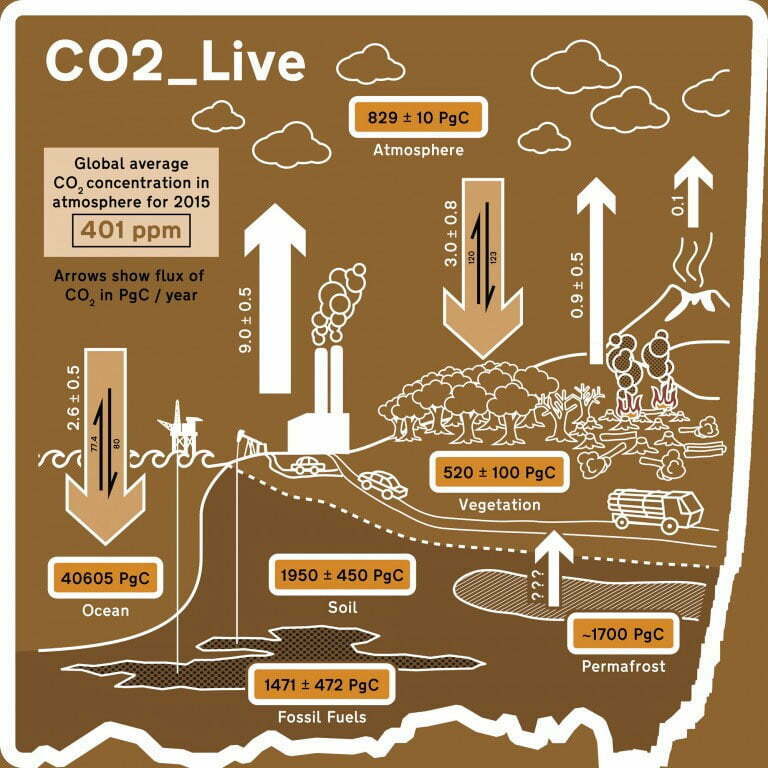 CO2_Live is a new collaborative work by Daniel Budinov, Patrick Hickey, James Howie, Jim Jack, Ryan Lewis, Adam Linson and Iain Robinson. It incorporates a Carbon Dioxide sensor, situated next to the street, connected to LED panels displaying the real time CO2 levels at the top floor of Summerhall's TechCube.
CO2 occurs naturally in the environment, but humans, particularly since the industrial revolution, have caused atmospheric levels to increase rapidly above naturally occurring levels. This has an impact upon the climate because CO2 is a greenhouse gas, a gas that causes a warming effect on the earth. CO2, Carbon Dioxide is part of common language, however, it is not always well understood. CO2_Live presents carbon dioxide levels as a digital time display, by showing the levels instead of the the time, viewers are suggested to consider CO2 and what the changing levels might mean. The display ties in with a road sign at street level depicting the Global Carbon Cycle. Data collected from CO2_Live will be made available online for people to explore.
This project was made possible by the generous support of the Natural Environment Research Council project GAUGE (Greenhouse gAs UK and Global Emissions), via Prof. Paul Palmer of the School of GeoSciences at the University of Edinburgh.