Cosmic Timelessness
Jenny Bruce
Sun 02 Jun 2019
- Sun 30 Jun 2019
11:00-18:00 (Wednesday-Sunday)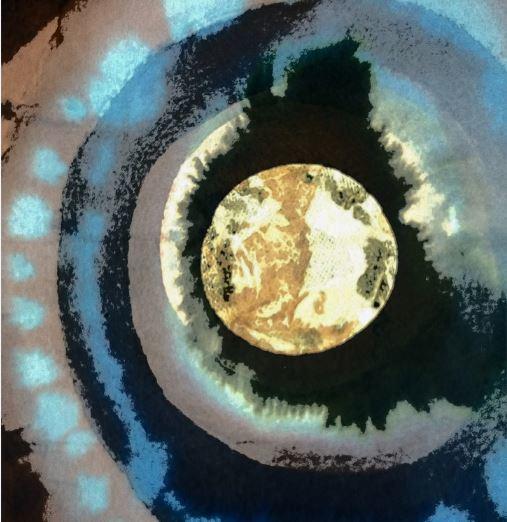 _ Venue: War Memorial Library
The divine art of creation divides into three primary elements.
Light, Dark and the Spiritual.
The sphere appears to unite all and I hold this to be a sacred symbol expressing wholeness, totality and divinity.
In the complex and still mysterious origin of the Universe, our Earth emerged from the sediment of creation.
The structure of minute particles within microbiotic bacteria, observed through a laboratory microscope, mirrors that which is seen from an observatory telescope: the mysterious architecture of stars and planets in the cosmos.
In apparently unrelated objects of nature, similar flow patterns may be observed as they draw together, unite or disperse. Acidic properties develop and progress into the alkaline through fluid dynamics
Within our complex universe, structures appear interconnected in cyclical pathways, and the visual patterns of nature being governed by physical laws, mathematical proportions and dimensions.
Chaos, Darkness and the Void yields to the creation of Order, Form and Light.
My experimental work in this exhibition sometimes uses natural dyes, from coffee. tea, turmeric, dandelion, nettle, beetroot and lemon juice instead of traditional paint mediums.
The simple round tea bag appears as an apparition, a metaphor for a planet perhaps, or the sun. These being accidental discoveries in the process of creation; spherical synchronicities.
Words by Jenny Bruce