David Boni
Retina International Photography Festival
Sat 25 Jun 2016
- Fri 17 Jul 2015
9:00 – 17:00 (10:00 – 17:00 on weekends)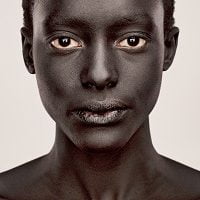 Retina International Photography Festival returns for its third year to Scotland's festival city, celebrating the best of photography from round the world in fifteen exhibitions featuring over 60 photographers. The festival will have a base at at Summerhall for the first time. The exhibition is FREE to enter.
At Summerhall from 24 June – see the best of portrait photography by David Boni. Boni is an award winning advertising photographer and director. As a photographer he plays with conceptual images and relishes the diversity of a photographer's life but portraits, on show at Retina this year, are his first love.
Boni describes himself as being equally comfortable shooting stills or directing live action TV commercials and online content, David's beautiful lighting, crisp direction and calm persona makes every shoot a pleasure. Starting out as a still life photographer – with Irving Penn as his inspiration for making absolutely anything look beautiful – David moved into portraiture and then expanded into moving image. David's moving image work is now growing from purely commercials into documentary and long form films, including a multi agency sponsored project about Global Social Enterprise that has taken him all over the world.
His Scottish roots shine through in his work, especially the landscapes, which have been used in campaigns for ScotRail and Highland Spring. David loves working on conceptual ideas and relishes the diversity of a photographer's life – working on portrait shoots with chickens, photographing The Stranglers being hung by the neck from a kids swing set, or racing a Massey Ferguson tractor against a Formula 1 car. (The tractor was winning until the engine blew up…)
With bases in both London and Glasgow and shooting all over the world David's clients include Manchester United, RBS, Wonderbra, Strongbow and HM Government to name but a few.
Private view: 24th June 18:00 – 21:00