G-Lands: An Out of Body Experience
G-Lands: An Out of Body Experience
Emily Fong
Fri 08 Apr 2022
- Mon 06 Jun 2022
Weds - Sun, 12pm - 6pm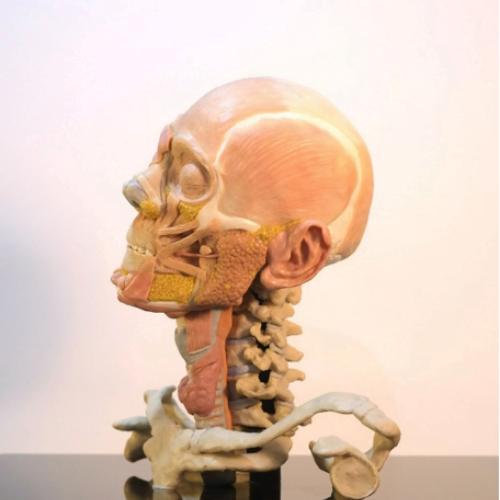 A collaboration between artist Emily Fong and scientist Dr Elaine Emmerson from the Centre for Regenerative Medicine (CRM,) in partnership with ASCUS Art and Science and a multitude of healthcare professionals.
Despite being a lifesaving treatment for head and neck cancer patients, a side-effect of radiotherapy is damage to salivary glands, leading to the chronic condition of dry mouth. This can severely affect a patient's quality of life, with existing treatments focusing on short-term relief of side-effects. Dr Elaine Emmerson's research aims to develop a regenerative strategy to restore salivary function.
Whilst viewing a salivary gland in the Emmerson Lab at CRM, artist Emily Fong raised questions about the patient now living without it. How incredible it is that a surgeon, scientist, artist or member of the public can engage with someone else's body part.During her residency at CRM, Emily Fong observed the journey taken by the salivary gland, from the time it is removed from the patient through to research taking place in the Emmerson Lab; meeting with patients, surgeons, oncologists, pathologists and scientists, capturing different perspectives and interactions with the organ. Experience these intimately direct observations through drawing and sculpture.