Keeping The Balance
George Wyllie + Demarco Archive
Mon 01 Dec 2014
- Sun 22 Mar 2015
11:00 - 18:00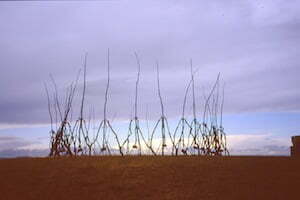 _ Entry: Free
_ Venue: Laboratory Gallery
George Wyllie (1921-2012) was a remarkable artist who reached out beyond the confines of the art gallery and connected with people all over the world through his thought-provoking art.
Wyllie represented Scotland as part of Glasgow-Berlin 1988 with two major commissions, the "Berlin Burd" and "The Glasgow-Berlin Spire". Each work, in it's own way, questioned the absurdity of a city divided by a wall.
From the mid 1980s, the concept of equilibrium began to weave its way through all Wyllie's work; the artist call for a more harmonious relationship between people and the planet is serenely voiced through his "spires" and related installations.
This exhibition focuses on artworks by George Wyllie which, through questioning, attempted to keep the balance by giving a "nudge to establishing equilibrium".