Monolog
Laure Prouvost
Wed 03 Aug 2016
- Fri 30 Sep 2016
11:00 - 18:00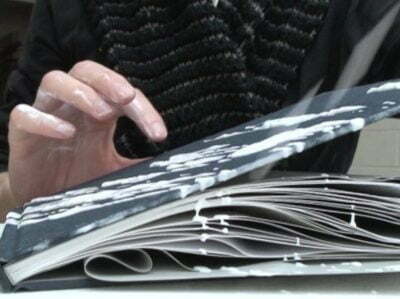 Laure Prouvost presents a series of video works focusing on the relationship between the physical body and the spatial limits of the screen. These individual works spill and react against one another to form surreal narratives that play with truth and fiction through the interplay of her hands, voice, instructions and materials. Prouvost's works are disorientating, yet their visceral quality and vocabulary speak of identifiable human traits, immersing the viewer in their humour and anxiety, and expressing an appetite to look beyond what the work and our lives present to us.
Instructions and prompts play a key role in Prouvost's dialogues, and are repeated throughout the galleries. Films such as Monolog explore divergences between spoken language and written text, with the intertitles of the film becoming Sign paintings – black and white texts arrested from the screen and brought into the exhibition space – to direct and suggest ideals to the audience.
Communication is subverted, films such as I need to take care of my conceptual grandad, acknowledge her position as an artist whilst also alluding to her own family lore – that of her absent grandfather. Prouvost was an assistant to the conceptual artist and former Artist Placement Group member John Latham. In the film she pays homage to Latham, who was infamous for his work with destroyed books, particularly one instance at a party in which he and his guests chewed up a copy of Clement Greenberg's Art and Culture which they spat out, fermented and returned to St Martin's library in a test-tube. In the film Prouvost attempts to massage body lotion into a Latham monograph in an act that is suggestive of ideas related to artistic influence and inheritance, and is both caring and destructive.
Prouvost's non-linear threads of storytelling suggest a necessity to share and maintain an open, and at times, cynical awareness of communication in contemporary life. Yet, far more seductively, the artist offers an invitation to the viewer to assert their authority in experiencing the work, which acts as a universal symbol of the yearning for a deeper understanding of the world around us.
Laure Prouvost was born in 1978 in Croix-Lille, France. She lives and works in London, UK and Antwerp, Belgium. After receiving the 2011 Max Mara Prize for Women, Prouvost was the first French artist to win the prestigious Turner Prize [2013].