MUTATOR 1+2
William Latham
Sat 04 Apr 2015
- Fri 22 May 2015
11:00 - 18:00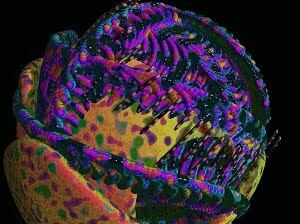 William Latham was one of the first pioneering UK computer artists and rapidly gained international reputation in the 80s. His work blends organic imagery and computer animation, using software modelled upon the processes of evolution to generate three-dimensional creations that resemble fantastical 'other-worldly' forms such as ancient sea shells, contorted animal hornSummerhall-Science-Festival-2015s or organic alien spaceships. The work, produced in collaboration with mathematician Stephen Todd, blurs the barriers between art and science.
His new large-scale Mutator 2 interactive projections show the endless evolution of organic forms steered by the viewer picking and breeding the forms they like. Accompanying the projections are large digitally printed translucent mutation curtains. With the projections complemented by early hand drawings, etchings and prints from the 1980s, large computer-generated Cibachrome prints and video art from his time at IBM.
Mutator 1+2 is Latham's first major exhibition in Europe in over 20 years, and was initiated in Brighton at The Phoenix in 2013 (sponsored by Arts Council England). It then toured to iMAL Gallery in Brussels and Centre Space in Dundee.