Parallel Lives
Angus Reid
Sat 21 Mar 2020
- Sun 19 Apr 2020
11:00-18:00 (Wednesday-Sunday)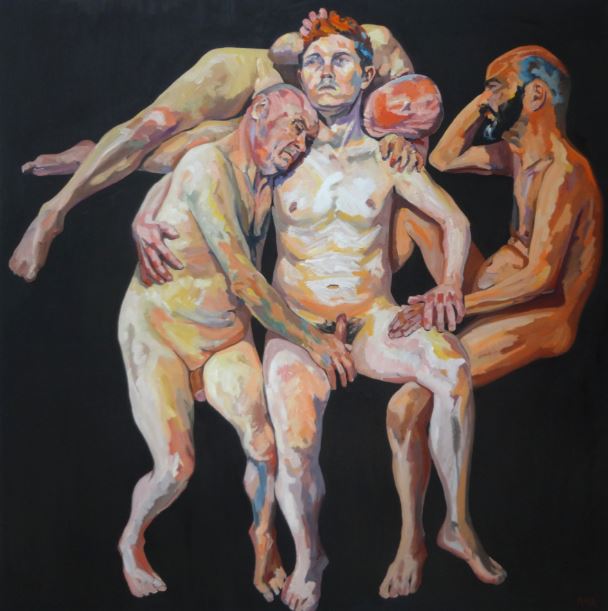 _ Venue: War Memorial Library
Curated by Andrew Brown
An Edinburgh therapist says: 'half my clients are killing themselves with hidden homosexuality, with internalized homophobia. What is it about Scotland? Why is there nothing in the culture to help these men? No stories, no paintings, no role-models, no nothing…?'
The work begins with five men, recruited at random, who agree to sit together. The aim is to explore tenderness, vulnerability, sharing. These acts and emotions are the ones that homophobia fears. I want to paint the relationship between the men. I paint them from life and I paint them life-size. Afterwards I make a film to show the process.
Parallel to images made to help men, are other images made to shame them. These are mug-shots from the 1930s of homosexual offenders convicted in Scotland. Alongside them is Harry Whyte, a communist from Edinburgh who defended the rights of the homosexual minority when it mattered most, in the Soviet Union in 1934. This exhibition is inspired by the words and the unique example of Harry Whyte. It stands in solidarity with those who suffer homophobia. We invite you to join in, to upload yourself into the exhibition. Send a selfie and a message to parallellives2020@gmail.com.
Parallel Lives will be opened by Tomasz Kitliński, an academic and minority-rights activist, who co-wrote 'Parallel Lines' with Angus Reid 30 years ago. Right now he is a target for homophobic nationalists and under threat of prosecution in Poland. Please read why.
EVENTS PROGRAMME
Please note, due to the current situation these events have been postponed. We will announce a new date in due course
PRIVATE VIEW
Friday 20 March 2020
18:00 – 20:00
PARALLEL LIVES, PARALLEL ACTIVISM
Saturday 21st March
Symposium, 4pm – 6pm, Anatomy Lecture Theatre, Summerhall
Symposium with Tomasz Kitlinski, Pawel Leszkowicz, Andrew Brown, Angus Reid and others. In association with Beyond Borders, Scotland: a platform for international dialogue and cultural exchange.
Copy: 30 years ago, the Polish academic and minority rights activist Tomasz Kitlinski, and the artist Angus Reid wrote and published a book together. Parallel Lines. It was the last samizdat book to be published in Poland. Today as Reid makes his show against homophobia, Parallel Lives, Kitlinski is under threat of prosecution from a homophobic state in Poland. Parallel Lives is not just a statement about tolerance and difference, it is politically activist. Join Kitlinski, his husband the art curator Pawel Leszkowicz and Angus Reid to discuss the art, the theory and the human rights.
REPRESENTING MEN
Saturday 28 March 2020
Artist's talk with Angus Reid and others, 16:00, War Memorial Gallery