Thana Faroq: Women Like Us
Thana Faroq: Women Like Us
Beyond Borders Scotland Presents
Fri 11 Nov 2016
- Mon 09 Jan 2017
11:00 - 18:00 (Tues-Sun)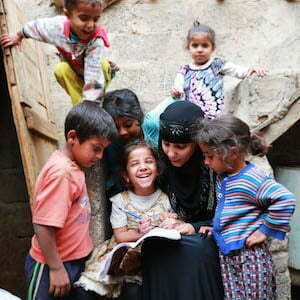 _ Venue: Lower Hope Park Church Gallery
In Women Like Us, visual storyteller Thana Faroq opens a window into the lives of 15 women and their experience of the war in Yemen: their struggles, their aspirations, and their ambitions. The series gives these women an opportunity to tell their stories and share them with the outside world. By capturing the women in their familiar surroundings, Faroq provides a snapshot into the daily life of these women –what has changed and is missing due to the war – and thus offers a rare insight into Yemeni society.
The exhibition is commissioned and supported by British Council Yemen.
www.beyondbordersscotland.com 
The Artist
Thana Faroq is a street photographer and visual storyteller based in Sana'a, Yemen. Faroq was born and raised in Yemen and attended one of the United World Colleges (UWC) in Canada, where she was formally introduced to art classes. Later, she moved to the US where she studied International Relations and photography, and has exhibited work in the US and Yemen.
Faroq aspires to produce direct, truthful, and bold images that tell meaningful stories. Photographing streets is her biggest passion, but the people in her photos never remain strangers. Their stories are assets through which to transform Faroq's everyday inspiration into evocative and compelling photographs that speak right to the soul. Faroq uses her camera like Alice in Wonderland's rabbit hole – to open an unexplored world, a place of curious self-expression and a world of chances and new tales.