Three Go Adventuring Again
Three Go Adventuring Again
Ortonandon
Wed 05 Aug 2015
- Mon 05 Oct 2015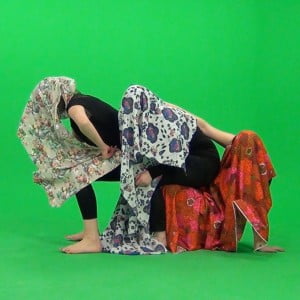 Social cohesion, togetherness, individuality and trying to make work together without falling-out is the three sister collaboration Ortonandon. With the figure as a central motif, they consider body-form in relation to social politics and how identity can be represented through actions and props. They play with popular archetypes and social norms until these are abstracted into rhythms that are then danced, drawn, re-enacted, performed, directed, sculpted and expressed together.
For Summerhall, Ortonandon present two video installations accompanied by props that invite participation; How to Die takes the form of a tutorial whilst Family Patterning seeks to strategize the channeling of a three sister myth through familial intuition. Both films are concerned with an exploration of participative art creation and the desire for strangers to join in.
Part of 'Allegories and Existence', Summerhall Festival – Oct '15 visual arts programme.