Puppet Animation Scotland and the Federation of Scottish Theatre Seminar,
19 November 2012 - 20 November 2012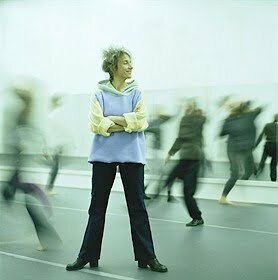 Category:
"I experienced Liz Lerman's Critical Review Process for the first time last year and found it to be enlightening and intriguing. I was fascinated to see how the process seemed to really help artists and the work they created - dealing with issues sensitively, dispassionately yet constructively. I think it will prove to be a most useful experience for anyone who wants to find new ways of talking about art."
Douglas Irvine, Artistic Director, Visible Fictions Theatre Company
Ticket Price: £24
Please note: your delegate place will only be confirmed on receipt of payment.
We're delighted to announce booking is open for Puppet Animation Scotland and the Federation of Scottish Theatre's two day seminar, during which the choreographer, performer, writer, educator and speaker Liz Lerman, and delegates, will talk in depth about her Critical Review Process.
Liz will lead delegates through a series of presentations and explorations of different types of performance work – puppetry, text-based and movement-based pieces – to demonstrate the effectiveness of the Critical Review Process in creating supportive environments within which artists can talk about their work – and audiences can articulate constructive responses – engaging together meaningfully about concepts of value and quality with mutual openness and respect.
Liz Lerman's Critical Response Process is a widely-recognized method which nurtures the development of artistic works-in-progress through a four-step, facilitated dialogue between artists, peers, and audiences. In use for over 20 years throughout the USA and increasingly the rest of the world, the Process has been embraced by arts makers of all disciplines, as well as educators, and administrators of theatre companies, dance and drama departments, orchestras, museums and other cultural organizations.
The Critical Review Process has deepened dialogue between artists and audiences; it has enhanced learning between teachers and students. By extension it has proven valuable for all kinds of creative endeavours, work situations, and collaborative relationships within and beyond the arts, from kindergartens to corporations www.lizlerman.com.
Places are limited to 60 people so book soon to avoid missing out on what promises to be a fascinating couple of days at Summerhall in Edinburgh.
The fee includes buffet lunch, tea and coffee on both days…as well as a piece of cake…
To register for this event, please complete the booking form and return it to the Federation of Scottish Theatre:  info@scottishtheatre.org.
If you have any questions about the event and would like further information, please contact Rebecca Davis, Puppet Animation Scotland, rebecca@puppetanimation.org or 0131 560 1298.