Mediterraneo at Tradfest: A Mediterranean Ceilidh!
The Badwills/ Mediterraneo
27 April, 2013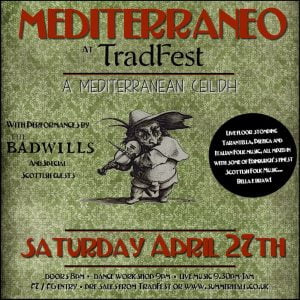 Venue: Main Hall
Category:
Ticket Price: £7.00
/ £6.00
Mediterraneo comes to TradFest – Europe's wildest corners meet in an epic night of music and dance.
After successive sold out shows, this celebration of Italian and Mediterranean music peeks into the world of Scottish sound in a reinvention of tradition. Hosted by the Badwills with their hypnotic tarantella, pizzica and tammurriata, this show will bring you into the frenzy of a Mediterranean-style Ceilidh.
We will be joined on stage by wonderful Scottish musicians. Elspeth and Murdo Turner will bring us the voice and atmosphere of the Outer Hebrides. One of Scotland's most highly regarded singers, Chris Miles, will perform a number of beautiful Scottish laments alongside vagabond, poet, mucisian and Fifer Gregor Shanks. To top off the evening Lewis Hou and Friends will have their fiddles and your feet on fire.
Here the South meets the North. The tongues of Napoli, Palermo and Genoa meet the Gaelic of the Western Hebrides, pizzica and tarantella turn into jig as your feet stomp and fly. Come ready to dance, sing and dream…
Free Pizzica and Tammurriata workshop with Davide Panzeri and Monica de Ioanni at 9pm. The Badwills will be on stage at 9.30.