The Apocalypse Gameshow 2.4
The Apocalypse Gameshow
31 October 2013, 1 November 2013, 2 November 2013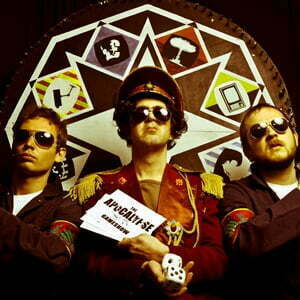 Venue: The Dissection Room
Category:
Ticket Price: £12/£10
Age Group: PG (all under 12's must be accompanied by an adult)
The only survivalist boot camp and testing facility encased in a light entertainment sugar shell.
Join your host, Dex Sinister, and the delightfully dishevelled Apocalettes as they guide you through a simulated obstacle course of possible apocalypses, in a show teetering between all-out bad taste and genuine concern. With a combination of luck and wits you may win the chance to be a protagonist, not merely an extra, in this endgame of the world as we know it.
Come on up to our paranoia psych-gym for your doomsday induction and profiling. Viable contestants earn player top-trump's and the chance to spin our wheel-of-misfortune to practice for their impending doom in one of our lovingly crafted end-of-the-world scenarios crammed with practical challenges, spurious moral conundrums, rampant future fear and eschatological slapstick.
What have you got to lose?
IT COULD BE YOU -OR SOMEBODY ELSE…
Only fully inducted contestants get the whole AG experience! Come early on the night to avoid disappointment.
Get ahead of the game by filling in your online induction now! -This also earns you £2 equivalent in-game currency for bribes and gambling.
DRESS FOR DOOM!
Could you run fast in what you are wearing? Leaving a pretty corpse is of course a valid priority, but generally we would advice: DO NOT WEAR YOUR SUNDAY BEST!
Extra points for apocalyptic, seasonal get-ups.
Doors 20.00 (for Player Inductions)
2.4 contains new interfaces, alterations to the in-game economy, new scenarios and bug fixes.