Inherit This Mango
Stephanie Mann
Sat 08 Feb - Sat 22 Mar 2014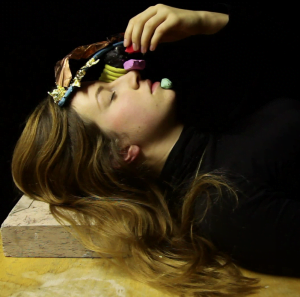 Venue: Library Upper Gallery
Category:
Ticket Price: Free
The still life as a genre in art emerged firstly during the Middle Ages and then became an important and common aspect of Western art practice. Stephanie Mann gives a contemporary twist to that tradition by the use of video and photography alongside large wall installations to expand the framing of her works beyond simply the canvas.
Just as importantly, the artist incorporates her own body as part of the final work; fruit and other objects are heaped upon her face, sometimes tumbling down, other times creating a finely balanced arrangement from the objects and her body.
A much-praised graduate of Edinburgh College of Art's Master's programme, this is Mann's first solo show in the UK where she will be presenting new work created especially for Summerhall.
N.B. Stephanie Mann's exhibition will be closed on the 1st and third Saturdays of the month starting 1s March between 11.00 -13.30 to allow another event to take place in the Library.