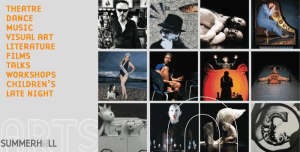 We have a very strong programme at Summerhall this year. I'm not just referring to the quality of the art on offer, but also to the astounding breadth of subject matter it tackles.
From ritualistic horror and challenging meta-theatre, to discussions about dissection and death, we've put together a programme that will unashamedly nudge audiences towards the point where the worlds of art and science collide. This excites me.
There is little better than a festival environment, where there is an atmosphere of carnival, camaraderie and risk, all conducive to people trying something new, to urge them to explore more artistically intense offerings.
We've worked to lay these aspects on at Summerhall this August, with joyous concerts and great bar, cafe, and children's areas for you to come, enjoy, and surprise yourself.
Rupert Thomson – Artistic Director, May 2013